The end of the year? Already? I'm curious if that's a parent thing or an adult thing or just a subjective thing that has nothing in the least to do with aging. I just remember as a kid how long anything took that I was looking forward to, be it my birthday or the weekend or even just dinner. And while time can certainly drag here and there (hello root canal and stressful, exhausting new workplace!), I now find that one year to the next certainly doesn't feel like a year. Let alone how fast a month or even a week can blow by.
Suffice to say, I didn't get through all the books I wanted to this year. As per usual. Such is the case with us people who love to read but are cursed with reading slowly.
Also as per usual, but because via my newsletter I think I'll have some new eyeballs on these lists this year, to clarify my approach, the following are my picks among books I read this year, which in some cases are decades old. Don't confuse that with books that were only released this year, which I frankly don't know that I've read any of.
Without further ado, my favourite books I read this year, in the order in which I read them:
The Long Way to a Small, Angry Planet
Becky Chambers


I can't say enough good about this book. It went from something I heard murmurings about, to something I kept seeing popping up on books people were enjoying, to what is frankly among my favourite books of all time. It's innovative, makes you think by presenting multiple views of ethical issues, funny at times and heart-wrenching at others… it's got it all. And its own origin story of it going from something Chambers wasn't sure she should bother continuing, to getting the funding to self-publish it, to it being picked up by a publisher and ultimately going on to win literary awards, is hugely inspiring. If you like science fiction at all, not reading this book is just doing yourself a huge disservice.
---
Calypso
David Sedaris


The usual David Sedaris essay-writing excellence. Funny, insightful, and always well crafted.

---
New Teeth
Simon Rich


I heard about this book on the Conan O'Brien Needs a Friend podcast, where Conan interviews Rich and they discuss the funny fictional short stories it's composed of. Being a fan of both short fiction and comedy, I picked up the book and found myself laughing out loud at parts and inspired by the book as a whole in both its comedic prowess and that books of short stories are still published and notable. Perhaps one day I'll be able to cobble together such a thing of my own. Hope burns eternal, and books like this keep that flame alive.
---
A Closed and Common Orbit
Becky Chambers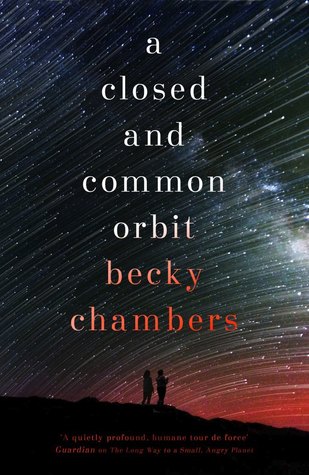 At once a natural spin-off of The Long Way To a Small, Angry Planet and yet not the sequel I'd expected nor been hoping for, Orbit demonstrates that Chambers isn't just a one-trick pony (as may risk being perceived had she stuck with the cast and setting we loved in the first book) but instead takes a tragic event from the first book and takes it into an entire new resulting story of its own. Again, not the book I'd expected — I still hope we some day get a book that follows the original cast again, but as they say, always leave them wanting more — but excellent in its own right.
---
Ascender, Vol. 1: The Haunted Galaxy
Jeff Lemiere, Dustin Nguyen


Deftly written and nicely rendered stories about space vampires trying to take over the galaxy while banishing robots, only to be challenged in all their aspirations by a robot who's a lot more than he seems?
Yes, please.
This whole story arc, the Ascender graphic novel series followed by the Descender series, is top-notch. I remain impressed by graphic novel creators who so effectively tell stories with pictures as much as words, let alone the planning of those stories within (presumably pre-set) page counts and then not only do issues of it, but entire arcs, and then series within those arcs.
---
Chrononauts
Mark Millar, Sean Gordon Murphy, Matt Hollingsworth


In this story, time travel has just barely been made possible in the same high-tech, teamwork environment that space launches are today. Two rockstar scientists are the ones being sent out to explore it. But what happens when one of them experiences what it's like to be an unparalleled king? Humourous, though-provoking, and at times touching.
---
The Gentle Art of Swedish Death Cleaning — How to Free Yourself and Your Family From a Lifetime of Clutter
Margareta Magnusson


This book happened to come onto my radar after some years of increasingly thinking my wife and daughter and I have too much stuff and wondering what to do with it. Wondering what would happen to it all if we were suddenly incapable of dealing with it (or, a bit morbidly, if we just weren't around at all). I'd seen it happen in dealing with my own mother's belongings when she was struck with dementia. And didn't want to have that onus on our own family and friends, whether that may be decades from now or tomorrow.
Enter this book, which explains in a clear and concise, and often very funny, way how the Swedish culture approaches considered giving away of one's the possessions one has as one gets older, with the specific goal of not having it — or at least not much of it — left around for loved ones to contend with when one has passed on.
If this kind of thinking isn't something you've given any time to, this book will open your eyes to a whole new way to approach your life and belongings as you get older. And it'll do so in a way that has you laughing at times and perhaps blushing at others. Rather surprisingly for her advanced age, Magnusson isn't shy about discussing even sex in the context of her book's goal.
---
Randoms
David Liss


This was a relatively quick read (even for me, which is saying something) and was a solid opener of a trilogy, though as mentioned earlier this year, I think it may have overreached itself. It proved to be handily the best of the three books of the series. Well worth reading even just as a standalone, especially if you like science fiction YA material and if you're okay with leaving some loose story ends when the book is finished.
---
The Black Beetle, Vol 1: No Way Out
Francesco Francavilla


Good lord, did I love this book.
A noir detective story with a mysterious superhero protagonist? Sign me up.
If that's your kind of thing as well, don't miss it.
---
Bird by Bird
Anne Lamott


Another book about how to effectively write, which I suspect I'll never tire of reading, albeit with some advice added in about how to effectively live. Insightful and unexpectedly funny. A must-read for any fans of the genre.